Services Offered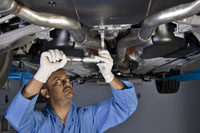 At Larry's Automotive Service in Bedford, OH, we offer a great selection of auto repair services! Do you need head gasket repair? When it comes to keeping the engine sealed, the most important item is the head gasket. If there are problems with the head gasket, it could result in coolant leaks. There are a few types of fluid circulating in the engine, such as a fuel/air mixture, a coolant, and lubricating oil, and if these mix (by a head gasket failing) then it could result in serious issues! Come get your head gasket repaired right here!
Are you having battery issues that need to be fixed? Sometimes when a battery gets old enough it will no longer hard a charge like it used to, and at this point it is time to go look for a replacement. You may also want to perform a voltage test, that way you can make sure it is the battery, and not the alternator, or something else. Under 13 volts, or over 15 volts means you have a battery problem. Be sure to come to us for all of your auto repairs and car services!
When it comes to scheduled routine maintenance and tune-ups, every so often you will want to take your car in to see if there are any little worn parts that need to be repaired or replaced. You may need to get an oil change, and a few other small services. So come to Larry's Automotive Repair today in Bedford, OH! We also service places such as Walton Hills, Glenwillow, Maple Heights, Solon, Independence, Oakwood, Warrensville Heights, Garfield Heights, and Northfield.
---
Our services:
Air Conditioning
Air Filters Replacement
Alternator
Anti-lock Brakes
Auto-Paint
Batteries
Belts
Brake Repair
Cabin Air Filters
Check Engine Light
Clutch Repair
Collision Repair
CV Axle Repair
Diagnostics
Electrical Service
Complete Engine Overhauls
Engine Replacement
Exhaust System
Transmission Flush
Heating System
High Performance
Hose Replacement
Ignitions
Imports
Mechanics
Mufflers
Preventative Maintenance
Oil Changes & Lube
Safety Checks
Shocks And Struts
Steering Systems
Suspension Work
Throttle Linkage
Towing Service
Transmission Repair
Emissions
Tune Ups
Warranty Work
Water Pumps
Radiator Repair
Wrecker Service
Tire Balance
---